In 1608 Caravaggio, full name Michelangelo Merisi from Caravaggio, landed in Siracusa from Malta.
He was already appreciated as a painter in Rome, where he had worked for some years arriving from Milan. He mastered the use of dark and light effect and tended to bring to its extreme the use of realism. Some of his masterpieces can be admired in many churches in Rome from St Maria del Popolo to St Luigi ai Francesi.
His works in Sicily are less Known, but he spent here almost two years from October 1608, taking refugee from Malta. He was accused of murder in Rome where killed Ranuccio Tomassoni , and he was sentenced to death. He took refugee in Malta, where he is welcomed by the Grand Master Alof de Wignacourt and that proclaimed him a knight. Unfortunately Caravaggio was involved in some fights with other knights, so he was imprisoned.
Thanks to the help of Mario Minniti, a painter from Siracusa he had known in Rome, he was able to escape from prison and escaped on a ship which was heading towards Siracusa. Here Mario helped Caravaggio and found protection thanks to the monks of the church of Santa Lucia al Sepolcro. Mario Minniti was able to convince the Senate and Caravaggio was entrusted with the painting for the main altar of the church " The burial of Saint Lucy".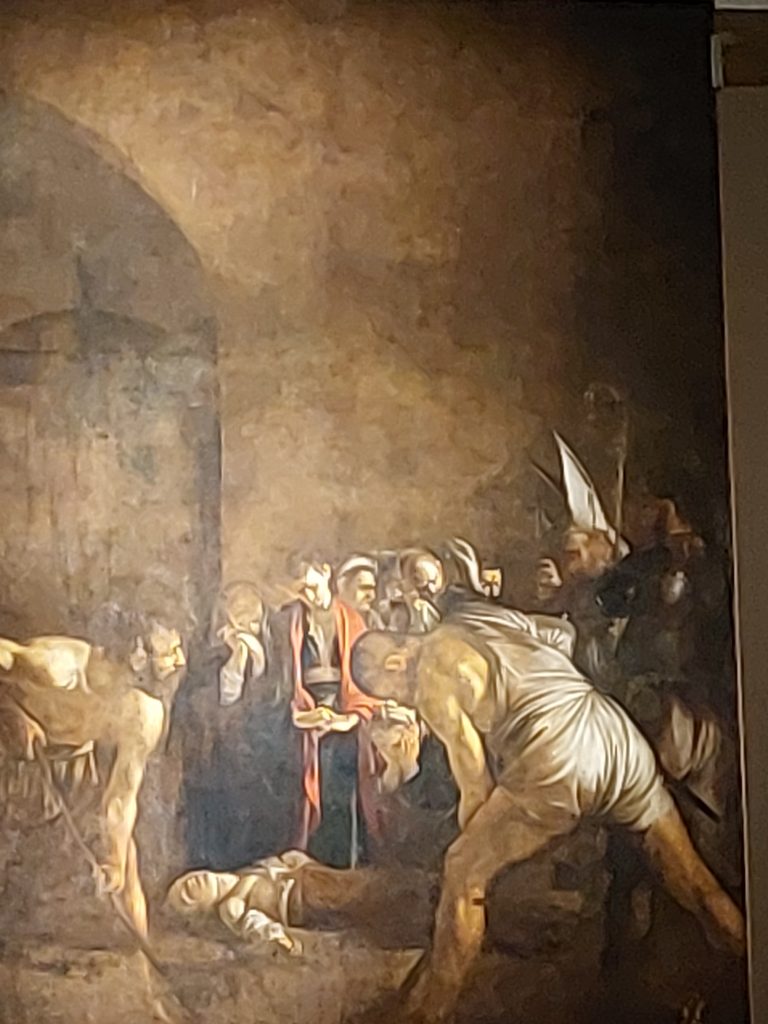 Michelangelo Merisi da Caravaggio "Il seppellimento di Santa Lucia".
In the painting Saint Lucy is lying on the ground, and the all scene is pushed toward the bottom because of the dark walls which occupy more than half of the all scene. The light enters from the right giving emphasis to the dead body of the saint and to the two buriers who seem to show a brutal force with their strong muscular definition and contrast with the deep sorrow expressed by the other characters in the scene.
The mistery is: where is the painting on display in Siracusa?
In December 2021 historians and critics, together with the Diocese of Siracusa decided its destiny: the painting had to return to its original place where the artist had conceived it. It was not an easy choice because the church of Santa Lucia al Sepolcro is outside of Ortigia, in an area which has not been gentrified, out of any touristic route. The visit to the church is a true experience which brings you in contact not only with an authentic area of Siracusa but also with the reality of the exhibition.